Emergency Shelter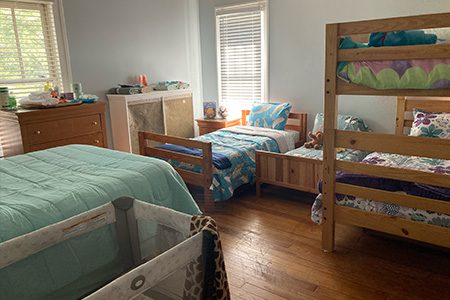 Stepping Stones Shelter provides emergency food and shelter for up to 6 families at a time, on average for 60-90 days, each with rooms within the house that are customized to meet the family's needs before arrival. There's a central kitchen, family room, playroom, numerous bathrooms and showers, a laundry room, a large backyard, a full basement, an attic stocked with donated clothes and supplies, 24/7 staff on hand at all times, and countless volunteers from across the region daily.
Upon entry, families work with the case managers to eliminate barriers to housing by helping families navigate the legal system, increase work skills and obtain jobs, address eviction and other debt, obtain critical identification, expunge outdated criminal records, mediate family conflicts, apply for childcare, advocate for children in their schools, and identify health and mental health resources. Stepping Stones Shelter also provides tutoring for children and workshops for adults. The workshops include parenting, arts, employment, budgeting, and health and wellness classes.
Stepping Stones Shelter serves 25 families annually. Family composition ranges from two to ten individuals per family.