COVID-19 Response and How You Can Help
Stepping Stones remains vigilant in addressing the needs of our homeless families in light of the serious nature of COVID-19. Because individuals experiencing homelessness have limited access to health care services, underlying and untreated medical conditions, housing instability, and frequent mobility, they are more vulnerable and at greater risk of contracting infectious diseases like COVID-19.
At Stepping Stones, we are following every protocol to ensure our families are healthy. We've shut down our volunteer program to limit exposure to our families and limit risk to our volunteers. We've instituted a rigorous hand washing process and personal hygiene regimen among families and staff, and work as a team on a daily basis to continually wipe down surfaces, door knobs, tables, etc. Our in-kind donors are being met on the porch or at their vehicles and staff is bringing the generous donations into the shelter. We are actively engaged with Montgomery County's Dept. of Health and Human Services, Services to End and Prevent Homelessness who have been responsive and provide information, resources, and support to us on a daily basis.
Here are some ways you can help:
Provide a Dinner Donation
We have a number of days available to make and bring dinner to the shelter. Normally we do not solicit dinners for Friday and Saturday but our families are staying in and dinners would be tremendously appreciated. Please sign up through the portal at: https://www.signupgenius.com/go/409044fa5ae29a4fa7-dinner and read below how dinner donations work. Note, we are also accepting lunch donations. Please call the shelter to let us know if you will be bringing lunch food at (301) 251-0567.
We currently are housing 6 adults and 16 children at Stepping Stones. We request that the meal includes a protein, side and or vegetable, beverages and a dessert is optional. Dinners should be dropped off anytime the day of, before 5:30 p.m. Donors usually bring their meals in disposable pans. If for some reason you need to cancel on the day of, we ask you contact the shelter at (301) 251-0567. Favorite dinners include: Tacos, Fajitas, Chicken Parmesan, Baked Chicken, Pizza, Fish. Note: Please include a protein in pasta dishes. Thank you so much.
You can also order carry out or delivery from popular restaurants including:
Other Food
Disposable Water Bottles, Frozen Casseroles (labeled please) and store bought also appreciated, Non-perishable foods, Lunch items (Lunchables, lunch meat), Snacks and Juice Boxes, Coffee Pods
Urgent Needs
Goods: Cleaning Supplies, Paper Towel and Paper Cups/Plates, Toilet Paper, Digital Ear Thermometers, Laundry Detergent, Hand Sanitizer and Hand Soap, Baby Wipes
We also have an Amazon Urgent Needs list where some of these items can be found:
https://www.amazon.com/hz/wishlist/ls/13UKSG116AU6A/ref=nav_wishlist_lists_2?_encoding=UTF8&type=wishlist. Use the shelter address for item delivery: 1070 Copperstone Court, Rockville, MD 20852
Thank you for thinking of Stepping Stones. We wish all our supporters good health and well being as well as a quick resolution to this health crisis. Please stay safe and healthy!
---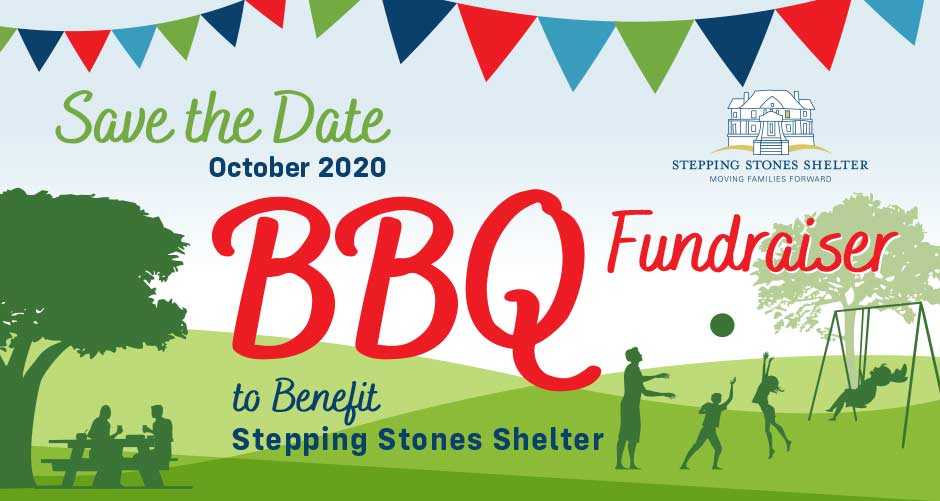 Save the Date
Stepping Stones 3rd Annual BBQ Family Fundraising Event
October 11, 2020 from 2:00 - 6:00 p.m. Rain or Shine
CLICK HERE for more information about tickets, sponsorship opportunities, and silent auction items!
---
Our Clothes Closet is Full (as of 2/12/20)
Right now, we are only accepting the following clothing items:
Teenage boys clothing (hoodies, sweatpants, trendy jeans, etc.)
Underwear of all sizes and gender (new only)
Women's sneakers and casual shoes
We are also actively requesting home goods, including:
Gently used lamps, microwave, pots and pans, microwave, cutlery sets, knives set;
New only shower curtains, shower rods, durable laundry baskets, bath mats,
toilet brushes, twin and full size bedding and Keurig coffee pods.
See our Urgent Needs List below for more information.  
Please, do not leave donations on the front porch. Call (301) 251-0567 if you have questions regarding a potential donation.
Don't forget, donate with dignity!
---
Support, Save, Enjoy!
Support Stepping Stones Shelter by purchasing a Rockville Rewards card. Present this buy local savings card at over 150 local Rockville businesses (click here for list of businesses) and save on everything from dining to events for an entire year. Stepping Stones keeps 100% of the $25 sales price and you enjoy growing your local economy and saving money. 1 Card, 3 rewards! Cards are valid now through 8/31/20.
Buy a card, support local businesses and Stepping Stones and save all year long from almost 150 Rockville businesses.
Buy a card, support local businesses and Stepping Stones and save all year long at almost 150 Rockville businesses.
---
Stepping Stones Shelter was Re-Certified as "One of the Best" by Catalogue for Philanthropy!
Click here for more information about the Catalogue
---
We had the honor of working with our past families to create this educational video on homelessness in Montgomery County sponsored by Montgomery County Media.