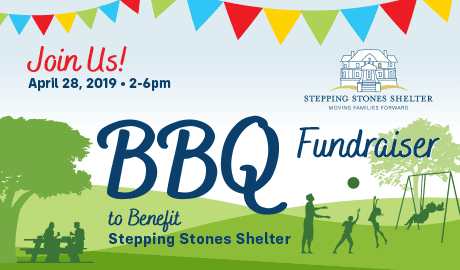 Update 4/28/19
We are on rain or shine! Smokey Glen has covered pavilions. Hope to see you there!

Advance ticket(s) are no longer available. Please join us Sunday and purchase your ticket(s) at the door!
---
Support, Save, Enjoy!
Support Stepping Stones Shelter by purchasing a Rockville Rewards card. Present this buy local savings card at over 150 local Rockville businesses (click here for list of businesses) and save on everything from dining to events for an entire year. Stepping Stones keeps 100% of the $25 sales price and you enjoy growing your local economy and saving money. 1 Card, 3 rewards! Cards are valid now through 8/31/19.
Buy a card, support local businesses and Stepping Stones and save all year long from almost 150 Rockville businesses.
Buy a card, support local businesses and Stepping Stones and save all year long at almost 150 Rockville businesses.
---

Stepping Stones Shelter Named 'One of the Best' Nonprofits by the Catalogue for Philanthropy
As it Celebrates its 16th Anniversary Serving the Greater Washington Region, the Catalogue for Philanthropy is Proud to Honor Stepping Stones Shelter!
WASHINGTON, D.C.—6.6.2018—After a careful vetting process, the Catalogue for Philanthropy: Greater Washington has selected Stepping Stones to be part of the Class of 2018-19. (Stepping Stones Shelter) has undergone a rigorous review process conducted by a team of 120+ experts in the local philanthropic field, and has met the Catalogue's high standards. Potential donors can be confident that the nonprofits in the Catalogue are worthy of their support. Stepping Stones' mission is to provide a continuum of services (emergency shelter, permanent supportive housing, and post-shelter support) to homeless families with children in order to move them from crisis to a stable home environment. By offering food, shelter and supportive services in an atmosphere of dignity and respect.
This year the Catalogue celebrates its 16th anniversary: since its inception it has raised $40 million for nonprofits in the region. It also offers trainings, neighborhood-based opportunities for collaboration, and a speaker's series for individuals who want to learn about and engage with the needs, challenges, and accomplishments of our shared community.
This year, reviewers helped select 77 charities to feature in the print edition, 38 of which are new to the Catalogue this year. It also selected an additional 49 nonprofits to be re-featured on its website. The network now includes 400+ vetted nonprofits working in the arts, education, environment, and human services sectors throughout Greater Washington.
"People want to know where to give and they need trusted information. Based on our in-depth review, we believe that Stepping Stones Shelter is one of the best community-based nonprofits in the region," says Bob Wittig, Executive Director of the Catalogue for Philanthropy.
Click Here to view the Catalogue Class of 2018-2019
---
We had the honor of working with our past families to create this educational video on homelessness in Montgomery County sponsored by Montgomery County Media.