Donate
We Invite you to Give
Hope — $1,000: Provides case management services, financial literacy training, and support from employment counselors to help families achieve their goals of stability.
Sweet Dreams — $500: Buys a new bed, pillow, and bedding for a child.
Kisses — $250: Provides home goods, grocery gift cards and toiletries to families moving out of the shelter.
Hugs — $100: Helps with transportation for a month for a working parent.
Joy — Any amount: Your generous gift in any amount, any time brings a little something to everyone!
---
Increase your impact by making an online monthly sustaining contribution!
Donate By Mail
Please send checks to: Stepping Stones Shelter, PO Box 712, Rockville, MD 20848
Donate Through Amazon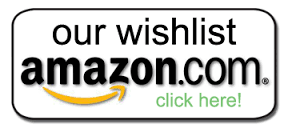 *Amazon will also donate .5% of all of your Amazon purchases to the charity of your choice. To choose Stepping Stones Shelter as your beneficiary, click the banner on the left.
---
In-kind Donations
We are always in need of donations! Standard items to donate include: twin bedding (new only), pillows (new only, cleaning supplies. All kinds of grocery gift cards.
For a detail list of our most urgent needs at the present, click here.
We request that you deliver your in-kind donations on weekdays between 9:00 am and 7:00 pm. Please put all donated items on the left side of the front door and come inside the front door to sign our donation log so that we may thank you for your contribution. Donation receipts (for tax purposes) can be found next to the donation log binder.
---
Matching Gifts
Please check to see if your company participates in a matching gift program! Contact your Human Resources Department, and tell them you support Stepping Stones. We are happy to help with paperwork to assist your company in making the matching contribution.
Workplace Giving
Workplace Giving is easy! Fill out your pledge form and your gift will support Stepping Stones all year long!
Designate #9472 Designate #75101
---
Host An Event
Host an event and donate proceeds to Stepping Stones Shelter. Stepping Stones Shelter staff are available to meet with groups and/or individuals who wish to explore the opportunity to have an event to support our programs and services.
Here are some ideas for an event:
Car Wash
Bake Sale
Wine Tasting
Company Dress Down Day
School Competitions
Battle of the Bands
Dinners
Host a Gala
Asking friends or family to donate on your behalf on special occasions ie., birthdays, weddings, etc.
The possibilities are endless. If interested in hosting an event please contact our Executive Director Stacey Erd via email at Stacey@SteppingStonesShelter.org or by calling the shelter at 301-251-0567.
On behalf of the families we serve, we thank you for your support!